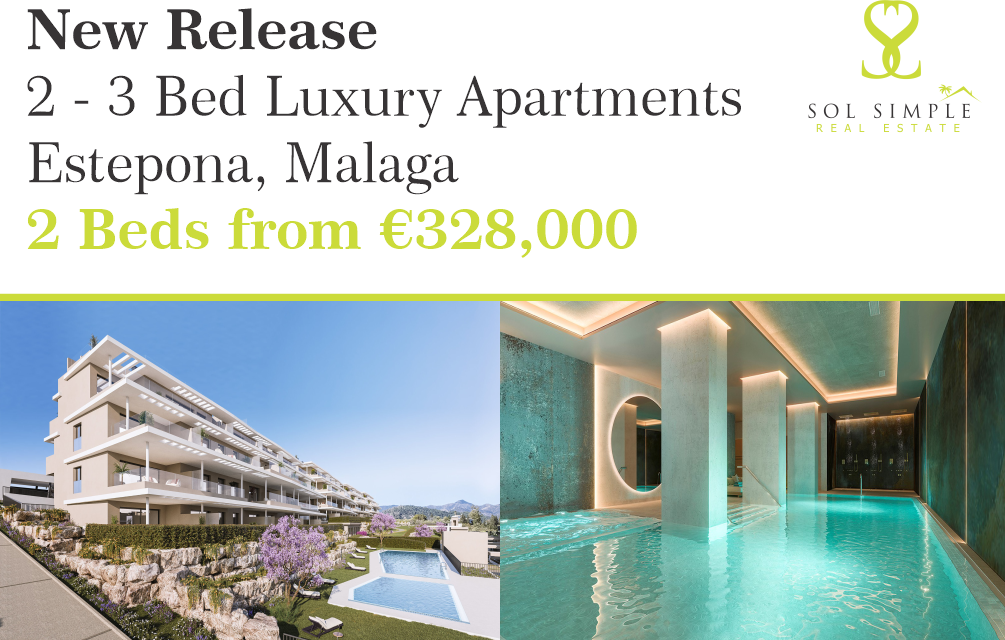 2 Bed Prices from €328,000
BUILDING LICENCE: 4TH QUARTER 2023 *
END OF BUILD: 2ND QUARTER 2026 *
2 and 3-bedroom homes with large terraces, penthouses and ground floor apartments with a garden. The project is located in La Resina, on the New Golden Mile, just 10 minutes from both Estepona and Marbella.
Spacious ground floor properties offer stunning private gardens, while generous penthouse apartments boast a rooftop solarium, perfect for entertaining or simply relaxing and making the most of the Costa del Sol weather.
A project that overlooks the sea and the mountains and whose architecture blends in with the surroundings to create a habitat of its own, where the sun and the Mediterranean mark the passage of time
The project reflects the essence of that natural and relaxing environment and transforms it into a unique residential complex with an avant-garde design.
Common Areas
Amongst the very complete communal facilities, a special mention should be made of its two outdoor swimming pools, its coworking space, fully equipped gymnasium and sauna with shower area.
Interior
The large and well distributed interior spaces stand out for their spaciousness and luminosity. Thanks to the large terraces of the apartments, the solariums of the penthouses and the private gardens on the ground floor. The wonderful surrondings of the Costa del Sol form part of each property.
Exterior
The soft, singular lines blend into the landscape, generating a symbiosis between the buildings and the gardens. An integrating vision based on the premise that good architecture is based on respect for and integration into its urban and natural context.

For further information contact us today for brochures, floor plans and availabilty.